As Melbourne goes through its fifth Covid lockdown, it has been revealed that one measure has changed the city's deadly second wave in 2020 'almost overnight'.
Victoria's Health Secretary Martin Foley says the state has registered 26 new locally acquired cases of COVID-19, bringing the state's total to 133 infections. Mr Foley said 24 of…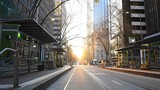 Victoria's Health Secretary Martin Foley says the state has registered 26 new locally acquired cases of COVID-19, bringing the state's total to 133 infections. Mr Foley said 24 of today's cases had been isolated throughout their infectious period. "This shows that our combination of measures brought together in our public health toolkit is starting to work in the direction we want it to go, giving our contact tracers the time, resources and opportunity they need to stay ahead of the virus. Of the two people who were not quarantined while contagious, one went to a gas station in regional Victoria before returning to Melbourne to be quarantined, and the other went to Prahran market on Saturday. Everyone at the Prahran Market or Market Lane coffee shops on Saturday, July 17 between 9:40 AM and 11:15 AM has been asked to quarantine for the full 14 days.
Leading research has found that mandating masks during Melbourne's deadly second wave changed the pandemic « almost overnight ».
The Burnet Institute study and published in the journal PLOS ONE found that masks were the main control measure and « turned the epidemic. »
Co-lead author Nick Scott said the introduction of mandatory mask use by the Victorian government on July 22 last year, while Phase 3 restrictions were in place, turned an exponential increase in community transmission into an exponential decrease « almost from one on the other day ».
"We had a unique situation in Melbourne where masks were mandated as a single policy change and compliance went very quickly from low use to very high use of masks in the community," said Dr Scott.
"What we saw was a significant 20 to 30 percent reduction in the effective reproduction rate that correlated with that policy.
« It changed the epidemic from the number of cases increasing each day to a situation where we could see the numbers coming back under control. »
The study used thousands of images from the photo library of The Age newspaper of Melbourne's community institutions, which showed mask use increased from 43 percent before July 22 to 97 percent thereafter.
It matched « nearly perfectly » with a study led by Monash University, which found that three days before the policy change, 44 percent of people reported wearing masks « often » or « always », compared to 100 percent « always » four days ago. days after they were made mandatory.
Co-lead author Allan Saul said the recent emergence of the Delta variant meant masks are even more important now than they were 12 months ago.
« The introduction of masks was the most important control measure that took place last year to bring Melbourne's second wave under control, » said Professor Saul.
« Masks have a direct impact on preventing people from spreading the virus and they prevent other people from getting the virus if they are in an area where it has been spread. »
Former Victorian deputy health officer Allen Cheng said on ABC radio on Wednesday that he regretted not making masks mandatory sooner.
« Around this time last year, we weren't quite sure how effective masks were…but it's clearly something that turned out to be really good and something we're still using today, » he said.
During Victoria's fifth lockdown, which is due to end next Tuesday at 11:59 p.m., masks will again be mandatory everywhere inside and outside, except in your own home and during strenuous exercise.
.
#Study #reveals #mask #rule #changed #Melbournes #deadly #wave #overnight